GOVERNOR OF BANK OF FRANCE WANTS STRICTER LICENSING OF CRYPTO FIRMS
Bank of France Governor Urges Stricter Regulations for Crypto Companies
Amidst the increasing cases of rug pulls and insolvency plaguing the crypto industry, regulators worldwide are taking a tougher stance on implementing robust regulatory frameworks. The governor of the Banque de France, Francois Villeroy de Galhau, recently emphasized the need for crypto firms to operate under stricter regulatory permits. He believes that these measures are necessary to ensure the security of crypto investments while acknowledging that they may reduce the industry's decentralization.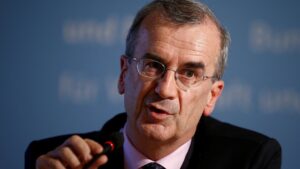 Villeroy stressed that rather than waiting for other European nations to adopt tighter regulations, France should take the lead and implement them as soon as its legislation is ready. In his view, the current "unstable environment" warrants cryptocurrency companies to obtain stricter authorization from regulatory bodies compared to the existing requirements.
Despite the Autorité des Marchés Financiers (AMF) registering approximately 60 companies, including leading crypto exchange Binance, to offer their products and services in France, none of them currently possess the authorization sought by Villeroy.
The governor cited the recent upheaval in the cryptocurrency world, marked by restructurings, bankruptcies, and market declines, which has eroded investor confidence. He emphasized the need for France to expedite the suggested revisions in response to the disruption witnessed in 2022. Villeroy stated,
"France should switch as soon as possible to the compulsory authorization of DASPs (digital asset service providers) rather than simply requiring their registration. And this needs to happen well before MiCA enters into force to create the necessary framework of trust."
It is important to highlight that the highly anticipated European Union regulation, Market in Crypto-Assets (MiCA), aims to establish a comprehensive licensing framework applicable to all 27 member states. The implementation of MiCA, expected in 2024, will primarily focus on combating tax evasion and money laundering.
Notably, Villeroy had previously urged European policymakers to establish a regulatory framework for cryptocurrencies, warning that the lack thereof could lead to the erosion of Europe's financial supremacy and have a negative impact on the euro's standing. He emphasized the need for Europe to act swiftly to establish such laws within one or two years to maintain its momentum.
While France has been gradually becoming more receptive to crypto technology, recent developments, such as the collapse of FTX, have led to proposed amendments that seek to remove the favorable treatment currently granted to cryptocurrency companies. Stay updated with Bitnation to explore the evolving regulatory landscape and its implications for crypto companies, decentralization, and investor security.
Aneeca has been a crypto enthusiast for a long time, even before it became a popular trend. Her love for all things crypto led her to explore the non-fungible token (NFT) boom of 2021 and beyond, and she has since been covering the latest NFT marketplace offerings extensively.
Aside from NFTs, Aneeca's passions include researching and writing about Fintech, B2B, and B2C industries, managing her crypto portfolio, and keeping a watchful eye out for the next big thing. With her keen interest in cryptocurrencies and NFTs, Aneeca can provide valuable insights and analysis for businesses and individuals looking to navigate these emerging markets.